Students are provided with the newest equipment of the leading manufacturers.

We teach only 2 students per Lesson (semiprivate) for best learning success
and maximum safety. Also Private Lessons can be booked.

We adapt the lessons individually to your skills and learning progress.

All teachers are VDWS (Association of German water sports schools e.V.) or IKO (International Kiteboarding Organization) licensed. This ensures a high standard of education.


The duration of training is 3 hours per day.

The following description of lessons should only give you a slight idea of how the course
will be structured.
The improvement depends on the student's individual skills and abilities.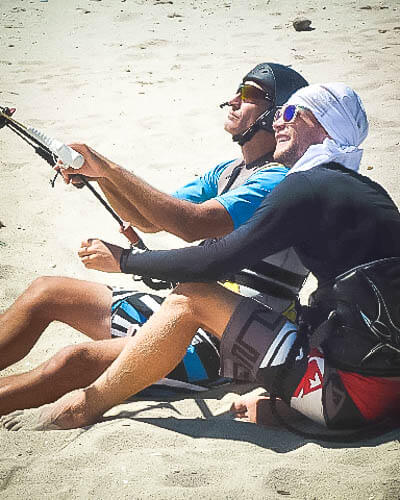 Taster Course
The first day, you will learn the basics of kitesurfing. You will become acquainted with your equipment and their use. By experiencing your first flying exercises with a small kite, you will learn how to steer and control the kite. It´s fun to feel how the kite is responding to your impulses and will make you wanna continue to the next level.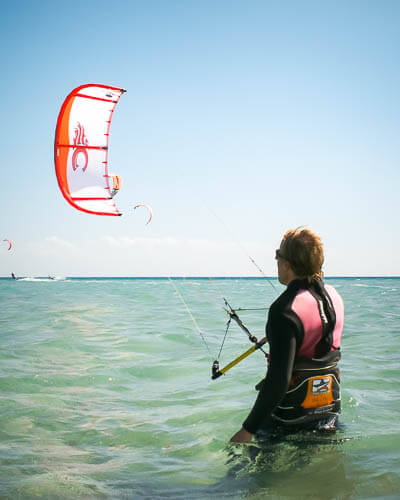 2-Day Course
On the second day you will learn to steer a larger kite, what will make you experience wind power on a much stronger scale. As soon as you are able to control the larger kite and to relaunch the kite in the water, you will start doing bodydrags. Body dragging means being pulled through the water by the kite using the power produced by the wind in the kite. That will make you feel the adrenalin flowing, so you can´t wait the next day to come.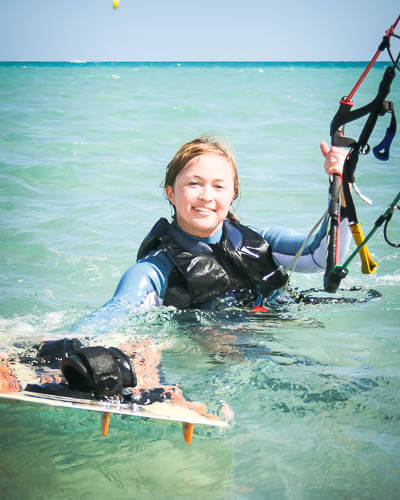 3-Day Course
Building upon the foregoing two course days, the third day, you will improve your bodydrag-skills. Once you are able to make the kite bodydrag you precisely wherever you wanna be pulled to, you will undertake the first attempt to stand up on the kiteboard. Gliding over the water for the first time will make you smile for the rest of the day.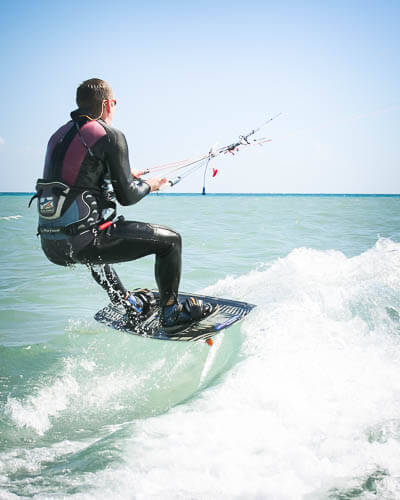 4-Day Course
On the fourth day, you will improve your waterstart, so that you are able to start riding to the left and the right side. You will find yourself riding further and further each time you try. You might wanna start calling yourself a kitesurfer.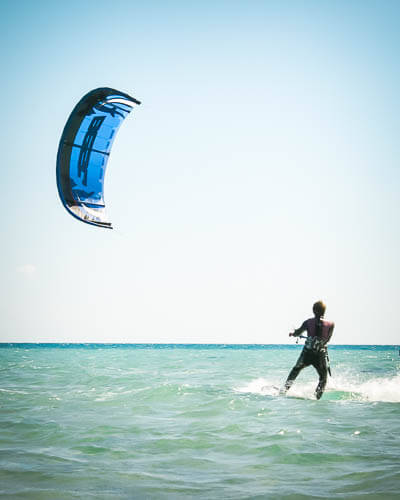 5-Day Course
On the fifth day, you will improve your posture, by learning to stand on your board in the right position. The daily objective is to kitesurf safely, that you are able to independently improve your kitesurfing skills. Of course, we are more than happy to help you working on your technique or to teach you any advanced kitesurfing maneuvers. Enjoy beeing a Kitebird!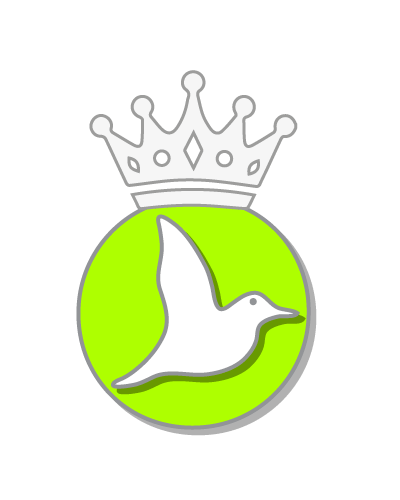 Private Lessons
Private lessons for maximum learning success. The trainer adapt the exercises exactly to your needs to reach your goals as fast as possible.
* If there is only one student on the spot at semi-private lessons, the course duration will be reduced from 3 hours to 2 hours.